In its 15th year, the conference boasts three keynote addresses, a bustling exhibit hall, and entertainment ranging from a full-fledged comedy show to impersonators and caricature artists. Bring your spouse or entire family to Orlando this May.
Focus Spring 2015 is just around the corner. In response to popular demand, the conference returns to Disney World in Orlando. So dig out those mouse ears—this is the one you won't want to miss!
Never been to Focus? For 15 years  now, the Focus "formula" of fantastic lectures, free food/drink, and entertainment (Focus put on a fantastic evening of live comedy last year) has been a successful one, and frankly, you will never be able to visit Disney World more economically (or write off most of the expenses of attending) as you can via the Focus conference. Ask yourself: How often does a tax-deductible trip to Disney World come along? Then seize the opportunity!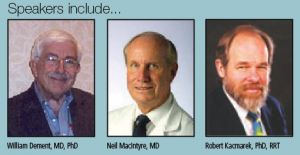 What's on tap for Focus and Disney World 2015? Let's start with the speakers. Neil MacIntyre, Bob Kacmarek, Rob Chatburn, William Dement, Stephen Sheldon, Janice East, Robyn Woitdke, Jerry Edens, and John Davies just to name a few (look up entire agenda at www.Foocus.com). Most lectures are given twice at Focus conferences so no one misses anything.
In addition, there will be three keynote addresses this year, various pre-conference workshops, Focus' manager workshop with cocktail reception (300 managers attended last year), a workshop on mechanical ventilation by Dr Neil MacIntyre, and the BRPT will be conducting its Clinical Sleep Educator Course the day before the conference begins. For 2015, people who attend both the BRPT program and the Focus conference will receive a 20% discount off the price of each. The same goes for the AAE's Asthma Educator Exam prep course, a full-day program that leaves attendees ready to take and pass the asthma educator credential exam. Attend it, plus any part of Focus, and receive 20% off the price of both! 
Of course, always a highlight is Focus' amazing exhibit hall. Tons of exhibitors and recruiters, of course, but also free beer, wine, and soft drinks, delicious hors d'oeuvres, impersonators, caricature artists, and door prizes. There'll also be the annual 5K race with cash prizes, and Focus will be presenting its fourth annual night of comedy for all attendees and their registered significant others. Last year three amazing comics had everyone laughing in the aisles for 2 hours. Speaking of significant others, Focus is again allowing attendees to bring one person (18+) to the conference for only $150 additional. This can make the conference a mini-getaway for couples or a full-fledged vacation for families!
Focus has also arranged for discounted theme park tickets and rooms at Disney's Coronado Resort (where the conference takes place) for only $149 per night (up to quad occupancy). Coronado guests enjoy free Disney Magical Express bus transportation to and from the airport, extended park hours, other discounts, and free shuttle buses between the hotel and the parks!   
But what really makes this conference so different is the attention to detail chairman Bob Miglino, RRT, and 30+ of his RT and sleep "crew-members" put into the conference each year. This is a labor of love for Bob and his crew. Each one of them looks at the conference as a party put on by colleagues for colleagues. A party, with 75 lectures and packaged as affordably as possible. The driving force of the conference continues to be value.
New for the 2015 conference is a full-day program of lectures that fulfills all state licensure requirements (including the new laws in Florida) and a half-day 4 credit program on education by past AARC Education section chief Joe Sorbello, RRT, MEd. Instead of its regular track of critical care nursing lectures, Focus will present a full 2-day, 15 credit CCRN/PCCN review course for nurses who plan to take those respective exams. Tell your nursing friends to come to the conference as well. Information for that segment is available at www.FocusonNursing.com.
The conference ends Saturday at noon to give everyone time to return home for Mother's Day. But consider spending Mother's Day at Disney. The International Flower and Garden Festival goes on that weekend at Epcot, and Disney is providing a limited number of rooms for Saturday and even Sunday nights at the Coronado for only $99 a night!
Focus is a first-rate conference, one that exemplifies the best of our professions. Many, including numerous speakers, have remarked they had never been to a more organized, smooth-running conference and "newbies" have consistently commented that although it was their first Focus conference, it wouldn't be their last.
Yes, the Focus conference has a special magic, an uncanny combination of a professional academic symposium replete with fun, laughs, and good times at every turn. It's the antithesis of being the "same old stuffy thing" each year. People don't like the Focus conference—they love it. This year, with its magical location—Disney World—thousands more will love it again. Come on down to Orlando, Fla, and enjoy the magic with us. Don't forget to come by our booth (#1082) to say hello. Make 2015 the year you attend the Focus conference. You won't be disappointed.