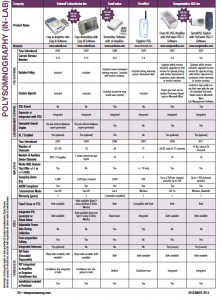 Compare 11 polysomnography systems (PSGs) side by side. Click on the thumbnail above or on "PSG2014" to view the full matrix at a legible size. Sleep Review's PSG matrix compares specifications for such features as PSG software, lab management software, amplifiers, video, and transducers for the following products: Cadwell Laboratories Inc Easy III with Easy III Software, Cadwell Laboratories Inc Easy Ambulatory with Easy III Software, CareFusion SomnoStar Software with z4 Amplifier, CleveMed Sapphire PSG, Compumedics USA Inc  Grael HD-PSG Amplifier with ProFusion PSG 3 Software, Compumedics USA Inc Somte PSG System with ProFusion PSG 3 Software, Natus Neurology  Sandman, Nihon Kohden America Inc PSG-1100 Sleep System, Philips Respironics Alice 6 DxN with Sleepware G3, Sleepvirtual/MDCD BW3 PSG Plus, and Somnomedics America Inc SOMNOscreen plus PLUS with DOMINO Software.
A version of this comparison guide was published in the 2015 Product Guide (December 2014 issue). If your company is missing, please e-mail editor Sree at [email protected] so you can be considered for the next update.
Find out about the latest product releases at www.sleepreviewmag.com/products.