Category:
Imaging Studies
The Outlook: Bill Harrell shows off his Cone Beam CT scanner, the first of its kind in Alabama.
According to Nora D. Volkow, who gave a talk at Radcliffe's Knafel Center Thursday titled "The Sleep-Deprived Human Brain," a single sleepless night is probably harmless, but the cumulative effects of sleep deprivation may be...
Examining the positive effects of sleep deprivation leads to new information about how we sleep.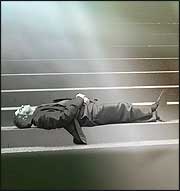 A study of patients with both Parkinson's disease and REM sleep behavior disorder demonstrated that the movements seen during an episode of acting out a dream may actually appear to be relatively normal.
Read More